Volunteers Are Integral
Volunteers are integral to our efforts to meet the needs of thousands of clients each year, and they are essential to helping us fulfill our mission to create opportunities for people who are blind or visually impaired. If you'd like to get involved in helping us achieve our goals and becoming a part of our community of care, consider becoming a volunteer.
Ongoing Volunteer Opportunities
Ongoing volunteers provide essential support for our comprehensive rehabilitation and employment programs. You can work at the Center for Visionary Solutions, providing administrative support to program staff, assisting with our Bosma Connections Program, serving senior citizens, conducting mock interviews for our clients seeking employment, and much more.
Special event Opportunities
Our special events are a fantastic backdrop to have fun and support a great cause. Our four special event fundraisers couldn't happen without our incredible volunteers. Dining in the Dark, Bosma Visionary Golf Classic, Fore! the Cause and The Thomas C. Hasbrook Award Event all provide great networking while serving your community. We also need volunteers for internal organizational events such as the employee picnic, employee holiday party and rehabilitation events throughout the year.
Corporate Volunteer Opportunities
We provide a host of corporate volunteer opportunities for groups of up to 20 people that last 2-4 hours. All corporate volunteers get the opportunity to tour our facility to learn more about the variety of programs and services we offer at Bosma Enterprises and our Center for Visionary Solutions. We also offer specific client engagement experiences and team-building activities for corporate volunteers through our Business Honor Roll program.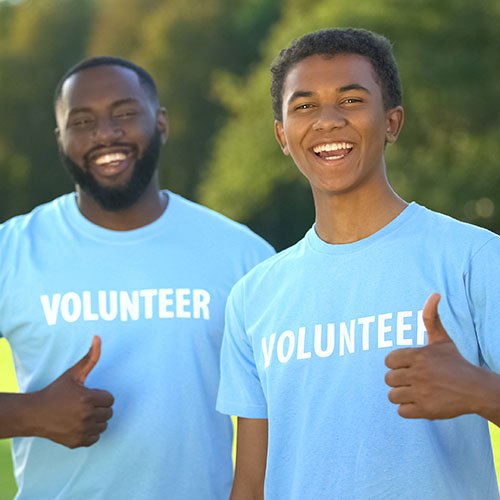 Become a volunteer
If you're interested in volunteering or would like to schedule your group, please contact us.
Why volunteer?
Make new friends and build a sense of community.
Bring people into your social network you would otherwise not get to meet.
Enrich your life and give yourself a broader purpose.
Boost your self esteem.
Improve your career by gaining new skills.
Reduce stress, improve your health and increase brain function.