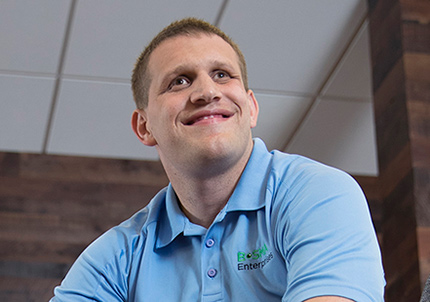 Become a part of our mission
Make a gift now and change the lives of people who are blind today!
Creating opportunities for Hoosiers who are blind
Established in 2009, Bosma Visionary Opportunities Foundation is a 501(c)(3) Type 1 supporting charity that serves as the philanthropic fundraising source for the Bosma Center for Visionary Solutions. The Center for Visionary Solutions is the largest provider of comprehensive vision rehabilitation programs in the state of Indiana. The foundation also raises critical funds to support the Senator Charles E. Bosma Legacy Fund, which is dedicated to building financial sustainability to continue to create opportunities for people with vision loss into the future.
Today, more than 160,000 adults in Indiana are blind or visually impaired. With a state unemployment rate of 53%, substantially higher than the rate of other Hoosiers, people with vision loss face significant barriers. Now more than ever, there is demand for Bosma's services and support.
Almost every task in daily life involves vision, including basic life skills such as cooking and cleaning. Loss of vision can occur without warning. After a lifetime of good eyesight, many people are forced to adjust to limited vision because of disease or injury. Navigating vision loss can present serious challenges, and each year thousands of Hoosiers don't know where to turn when injury or illness takes their sight.
Become a part of our mission through Bosma Visionary Opportunities Foundation. Change lives today and create opportunities for tomorrow.
Donor Bill of Rights
Our donor Bill of Rights was created to instill the trust and respect of the public, our donors and prospective donors. Click below to read our Donor Bill of Rights.