How do people who are blind watch the Big Game?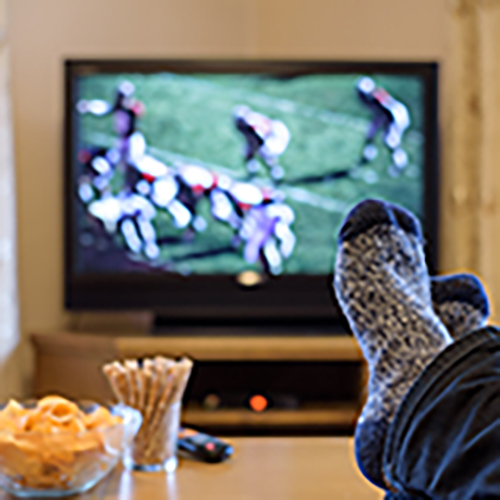 A showdown between the LA Rams and Cincinnati Bengals kicks off on February 13, 2022, and just like our sighted friends, the blind community will be watching. Yes, people who are blind will be watching and rooting for their favorite team to take home that championship trophy.

I know my sighted friends may be puzzled on how a person who is blind watches sports, or if people who are blind are offended by people using words like "look" or "see" around their friends and families with sight loss. These words typically do not offend a person who is blind. Believe it or not, these words are common among individuals with vision loss.

Mendi Evans is an assistive technology specialist at Bosma who happens to be blind, and like most of America, she enjoys watching the Super Bowl. "I typically watch the TV coverage, although if the commentators aren't giving me enough information, I have turned on something like an ESPN radio for play by play, as the radio gives someone who is blind more information about what is happening on the field," she said.

For this reason, many people who are blind choose other options in addition to watching the television coverage like tuning into the game via radio or through one of the many multitudes of streaming services.

Listening to play-by-play commentary provides the most essential visual details by describing things some sighted people wouldn't even notice. Broadcasters have to give as much information to the listener as possible, including a vivid description of what the player is wearing, the expression on their faces and how they fought through those tackles. This allows listeners to follow the action, but also connect with the emotional aspect of the game.

As iconic as the game itself, the pregame festivities are must-see. People tune in worldwide to see what musical artists are singing the national anthem and who is headlining the halftime show.

This year, Aira is offering the option to have the halftime show audio described. Audio description or descriptive video is a form of narration that provides information surrounding vital visual elements in media work. Aira is a paid service where a person who is blind or visually impaired (known as an explorer), uses their smartphone to connect to a live agent. The agents are trained specifically to assist with tasks like sorting through mail, navigating an unfamiliar building and having an agent describe people and places to you.

Thankfully, we live in a technologically advanced world that brings people who are blind closer to the action and at the same time break down barriers that hinder people who are blind from fully participating. Although it is not yet clear if this year's big game will be audio described, you can always check your accessibility settings if that's not an option. You can always break out your radio and sit back and enjoy the game.

To learn more about Bosma and how we are creating opportunities for people who are blind, visit us on the web at www.bosma.org.