Regaining Independence
Imagine being totally dependent on others for your basic, everyday needs. Everything you want or need depends on the help of someone else. Most people who are blind or visually impaired will tell you that their loss of independence is as devastating as their loss of vision. Now imagine specifically designed programs to help individuals with vision loss learn how to regain their independence.
At our rehabilitation center, located at 7225 Woodland Drive in Indianapolis, we provide guidance and hands-on, customized training in everything from daily living skills to state-of-the-art assistive technology. We also offer programs on pursuing educational and career goals. Learn safe navigation from our orientation and mobility instructors. Learn personal management skills like cooking and cleaning. Receive expert-level instruction on computers, smartphones, software and other devices. The programs are constantly changing to keep up with the latest technology.
Support is provided by generous donors of the Bosma Visionary Opportunities Foundation.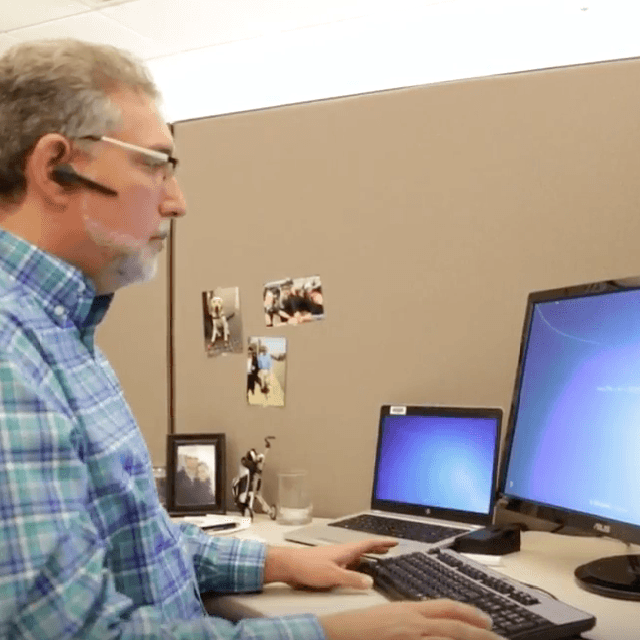 Mark's Story
Diagnosed with a rare degenerative eye disease as a teenager, Mark spent his young adult years wondering what a life without vision was going to look like.
PROGRAM COMPONENTS
Household management
Assistive technology
Adjustment counseling
Safe navigation
Keyboarding, computer training
Braille instruction
High school equivalency diploma, college prep
Job readiness
Much more!
PROGRAM LOGISTICS
Short term or comprehensive customized programs
Located in Indianapolis (temporary housing is available)
Must be an Indiana resident, over age 18, experiencing vision loss
Available at little to no cost