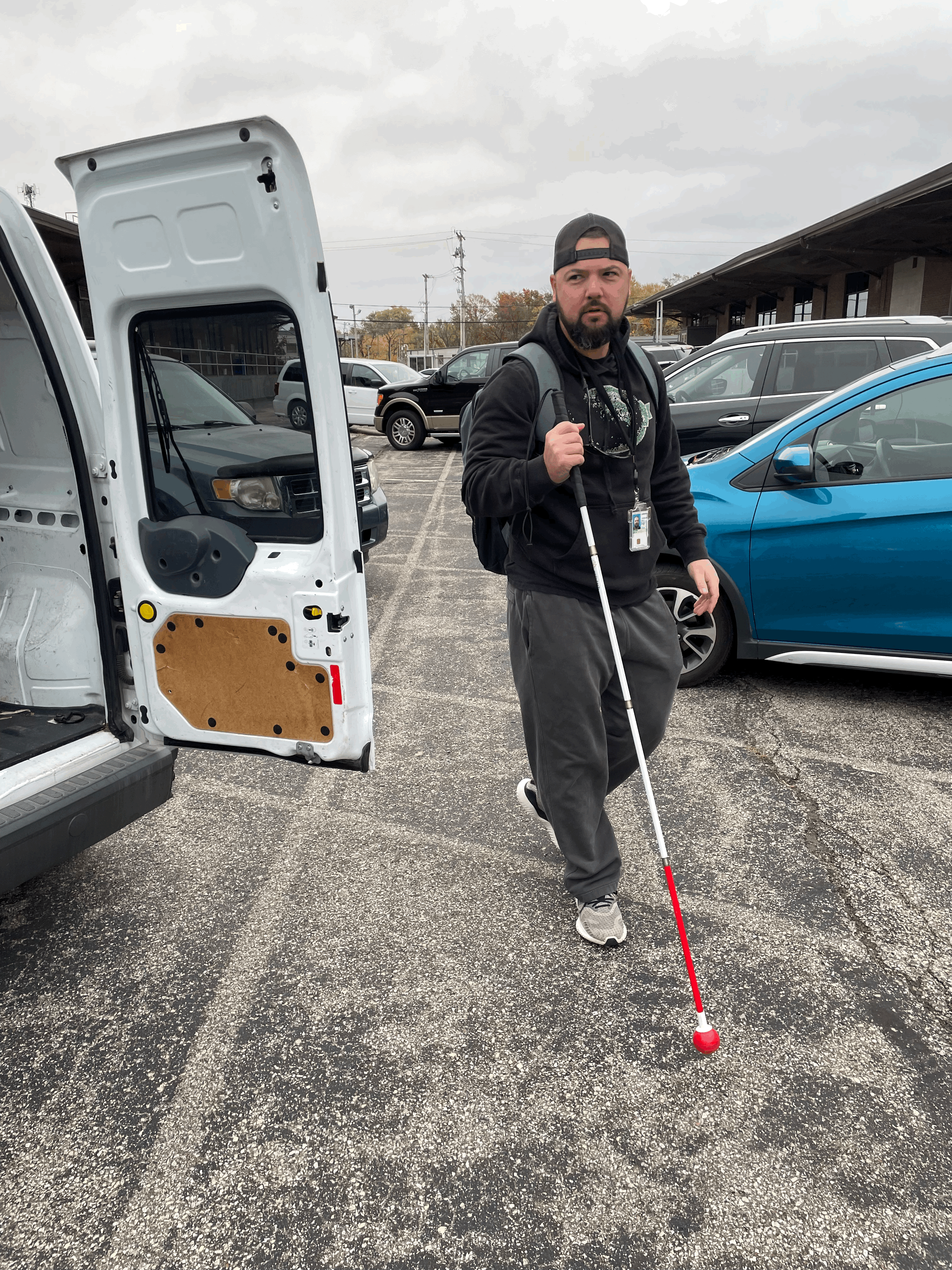 Joel Taulbee, a recent graduate of Bosma's Rehabilitation and Business Enterprise Programs and new business owner, can't say enough about the impact Bosma has made on his life.
Joel was diagnosed with retinitis pigmentosa at age 14 but was able to lead a fairly normal life, playing sports in high school and baseball in college until age 20 when he realized he could no longer track a fly ball. "That's when life started to change for me. At 30 I was deemed legally blind and had to quit my job as a medical assistant and stop driving.
"At age 35 I was living at home with my parents and seeing a therapist in Muncie, Indiana who got me connected to Bosma. My vision was declining and I didn't want to continue to rely on my family to do things for me. I wanted my independence.
"I wanted to go as soon as I heard about Bosma, but it was during COVID and it took about 6 months to get into the program. Bosma's staff kept in contact with me the whole time - they were great. I really didn't know what to expect but the people going through the program really understood me. We were all in the same boat," Joel said.
During rehab, Joel learned about Bosma's Business Enterprise Program (BEP). "I was searching for answers to my future. I knew I didn't want to go back to school. BEP turned out to be just what I was looking for and the curriculum was actually based around what I wanted to accomplish.
"My computer and math skills were rusty and I spent many hours in IT. A lot of new technology is making it possible for people like me to use computers. One I learned to use was NVDA, software that allows people who are blind and visually impaired to use the Windows operating system," he said.
Four months after graduating from the BEP program Joel is living in Jeffersonville, Indiana, and running his own business - Vision 2.0 Vending. He orders supplies, stocks and services multiple government-owned vending machine sites through the Randolph-Sheppard Act, which provides people who are blind with access to rewarding and profitable entrepreneurial ventures.
Joel explains that he has another job, too. His 10-year-old nephew was diagnosed with retinitis pigmentosa two years ago. "I know the tough times ahead for him and I want to show him that if I can do it, he can, too."