Bosma helped Rhonda navigate her blindness with confidence and gave her the opportunity to have a successful career.
Rhonda walked into her office, still shaken. Driving to work that morning, she had a close call on the road and was nearly sideswiped – a truck had appeared seemingly out of nowhere. At the office, she sat down and switched on her computer. It was another busy day at the clinic where she worked, and she had plenty to do. But she struggled to find the cursor on her computer screen.
That's when she knew. Something wasn't right.
"Things were off – really off," she said.
Rhonda was quickly diagnosed with pseudotumor cerebri. A buildup of fluid pressure was destroying her optic nerves. Within 10 days, Rhonda went from being a busy, active, professional mom – to being completely blind.
Rhonda's sudden and dramatic vision loss sent everyone reeling. Rhonda broke down, grieving that she wouldn't be able to see her children any longer or even the grandchildren she hoped to have one day. Her husband, Eddie, felt helpless. Her sons were protective and confused. When many of Rhonda's closest friends seemed to disappear, unsure of how to relate to her anymore, she had a realization.
"I felt like I had to prove to the world that Rhonda was still here and vital," she said. "I really wanted the world to know I was still as good as I was. I just have to do things a little differently."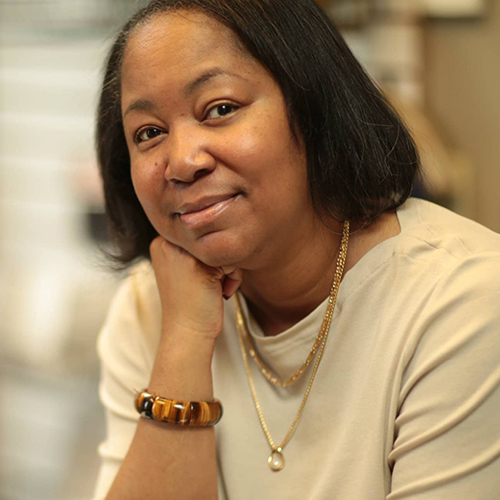 Rhonda's Story
Rhonda lost her vision in 10 days. How was she going to care for her family? She found new hope at Bosma.
Rhonda started vision rehabilitation at the Bosma Center for Visionary Solutions soon after losing her sight. There she learned how to navigate blindness with what she describes as a "can-do attitude." She learned practical skills and also discovered her support community.
"They gave me the feeling of belonging," she said. "I had a nexus of people I could talk to – who understood. I learned so much and opened up so much more. I became bolder and more confident."
She still remembers the empowering feeling of making her way alone through the busy streets of downtown Indianapolis, armed with the new mobility skills she learned at Bosma. "They really taught me how to navigate the world in my blindness, and that is freeing," she said.
Rhonda was hired at Bosma and has been a successful employee for many years.