When Doris went to the doctor with concerns about her vision, her worst fears were confirmed – she was diagnosed with early-stage macular degeneration.
Macular degeneration is a leading cause of vision loss. An incurable eye disease, it affects more than 10 million Americans. Doris had watched her own mother suffer the effects of macular degeneration, losing almost all of her sight in a short period of time.
"Seeing what my mother went through, I don't know any other word except 'terrifying,' to think that this would be my future as well," Doris said. "It was such a low point in my life."
Doris had always prided herself on her independence. She owned her own home. She traveled to far-off destinations. She cooked up adventurous meals in the kitchen to share with friends and family. Her first thought when she was diagnosed was that her active, independent life was now over.
"Emotionally, it was wrenching," she said.
Doris had bought what she describes as her "forever home" years earlier. After being diagnosed, she believed it was inevitable that she would have to leave her beloved home behind. Feeling alone and defeated, Doris grieved the ways her life was changing.
Then, one night, she saw an ad on television about Bosma. It felt like a lifeline. She decided, then and there, to call first thing the next morning. That was the turning point in her story.
When Doris called the Bosma Center for Visionary Solutions for the first time, she had two goals.
"One of them was to stay in my own home and be independent. The second goal was to be safe," she explained. "So, can you imagine how I felt when they said, 'That's our goal, too.' "
A rehabilitation teacher came out to work with Doris in the comfort of her own home, visiting regularly over the course of a year. Together, they worked on practical strategies for navigating day-to-day life with success.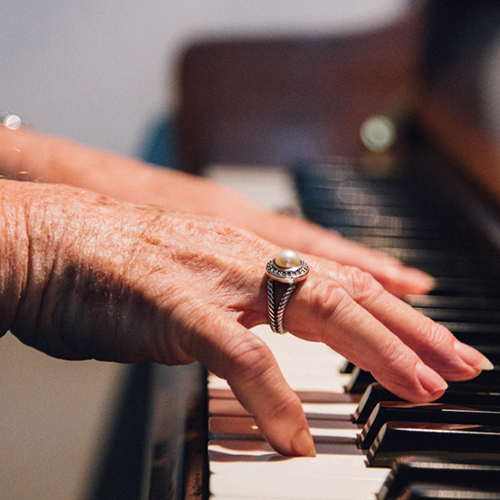 Doris' Story
Doris was diagnosed with macular degeneration. Her worst fears had come true. She was terrified until she found Bosma.
"Everyone there has a can-do attitude," she said. "They're helpful, knowledgeable and compassionate."
Knowing how much Doris enjoys cooking, her rehabilitation teacher organized training on how to work in the kitchen easily and safely. The Bosma team also encouraged Doris to keep traveling, offering guidance on how to do it with confidence. Now, she travels the world.
Doris says she feels empowered because she has the tools to face the future with confidence. It's a true success story.
"I have to stop and wonder sometimes what my life would be like if Bosma had not entered into it," she says. "I would still probably be that depressed person I was. But now, I've got such a good outlook. I've got my mojo back."