I have hope and energy again!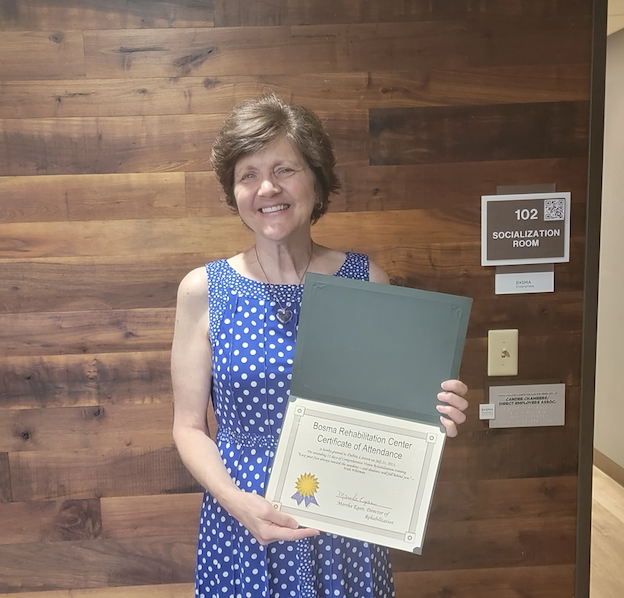 Debbie Linton just finished the 16-week Rehabilitation Program at Bosma and believes her future couldn't be brighter.
It hasn't always been that way. Debbie was diagnosed with Type 1 diabetes at age 11 but didn't experience vision issues until age 26. After many years of painful procedures and surgeries, today she is left with very little peripheral vision, can only see light in her right eye, and has little vision in her left.
Despite her diminishing vision, Debbie worked at jobs she loved. "Mostly, I was in customer service jobs. I'm a people person," Debbie said.
Debbie has a supportive husband and 24-year-old son, is an avid reader, crochets, plays the organ, journals every day, and has written two children's books.
But as her vision decreased over the years, so did her world. "I had to quit working. I started tripping over things. I was so afraid of falling that I couldn't even go to the mailbox

. I couldn't walk my two dogs. I was embarrassed to ask for rides because I felt like a burden.

Finally, I just gave up leaving the house. I realized I was in a deep depression," she explained.
It was at a church retreat that her world changed again. A past Bosma Rehab client told her about the program and how it changed their life. Debbie was convinced and contacted Bosma the following week.
"My

whole life has changed. I've blossomed.

They trained me with a white cane and now I can confidently walk my dogs, ride the bus, and get out and around on my own. I'm learning Braille and manual skills like how to use a drill and screwdriver. I always loved to cook and bake but safety became an issue. Now, I have the tools and aids to get me back in the kitchen.
"It isn't hopeless. You don't have to give up, you just need to learn to do things differently.
"You get close to other clients – we're here for four months together. We tell our stories and attend open forums to discuss anything we'd like. I know we will stay in touch.
"I decided I would like to get back to work and thanks to Bosma I have already had two job interviews. I just can't say enough about the people at Bosma. I want to shout it from the mountain tops!" she concluded.
Perhaps her husband put it best when he said, "I got my Debbie back!"
I'm excited to contribute to my family and my community. I can do anything I want to do.
– Debbie Linton